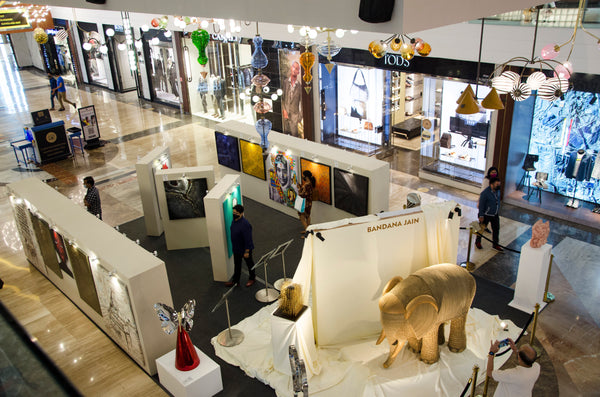 A multi-dimensional universe of ART at Phoenix Palladium
Eztablish.ART associated with Phoenix Palladium to showcase some of the finest artworks in varied mediums across the mall for 'Luxefest' organized in February 2021
The idea was to curate individual spaces throughout the massive open areas of Phoenix Palladium for people to be able to appreciate and gaze upon different spectacles under a common umbrella of art for the masses.
ART Gallery & Installations | Palladium
The Palladium atrium housed a curated space of artworks in complete contrast with one another to break the stereotypical format of art on display. Mixed medium, portraits, abstract, sketches, sculptures, were all stacked side by side to create an impact seldom witnessed elsewhere.
Bandana Jain's corrugated cardboard works, especially the elephant was a crowd puller. In complete contrast, contemporary metal structures of Hitesh Gilder were placed in its vicinity. The make-shift unique art gallery includesd mixed medium works by Jaideep Mehrotra and Sushma Bengani, and incredible paintings by Anand Menon, Ajay Patil, Ketan Jawdekar, Pooja Bansal, Nachiket Shah, Tasneem Bharmal, Kanak Nanda, Karishma Wadhwa, and Shabana Godhrawala. Purva Pandit's 'Self Portrait' deserves a special mention for how she has managed to create harmony in clutter. 
This entire space was enriched by some of the most intricate lights created by Arjun Rathi hanging above the art gallery. The view looking up from the Palladium atrium towards the Rathi's lights is as phenomenal as looking down from the third floor of Palladium. While on the third floor, Baaya Design has placed some of their bespoke copper enamel plates on display on the wall opposite Social followed by a setup of sculpture artist Mahesh Anjalekar's works.
Kanhai Gandhi's 'Drop' installation in the atrium opposite Gucci was a mesmerising spectacle. Created using large stacks of glass on a glossy metal base, the installation served as a constant reminder of preservation of water in ongoing times.  
The ART of VENEER by VENZO wood | Opposite PVR
The ART of Veneer campaign was introduced by VENZO Wood to stir things within the veneer domain, push the industry to its fullest potential and reveal what can be achieved with the use of veneer as a material. Each artwork was a culmination of varied veneer pieces stacked and inlayed like a one-of-a-kind jigsaw puzzle. The art in-itself was a manifestation of the designers' unique thoughts expressed through an unconventional medium.
Saniya Kantawala decided to pay homage to the heritage, art & design of South Mumbai by creating a map of Kala Ghoda while Manish Dikshit's POSITIVELY had everyone searching for the one single heart he managed to sneak in amidst the dots. Akash and Poonam Mehta's colourful set of windows – VIRYA is inspired by the famous Paris-based Indian artists – Raza. Kanhai Gandhi's DROP is part of a larger initiative – a constant reminder of saving the most precious resource on this planet. The mono-toned CODED ILLUSIONS by Anand Menon comes from a universe of its own while Kumpal Vaid's LOVE IN TIMES OF WAR is inspired by a celebrated photograph from the time of World War II.  Ishan Grover's BINDU is inspired by his love for pure geometric patterns and works of Raza. Geometry is also evident in Sameer & Shilpa Balvally's EQUILIBRIA that exhibits the design principle of balance. The campaign was in works for over six months and is made available for public viewing for the first time at Phoenix Palladium.
Matching Wavelength | Opposite PVR
Sapana Jain's Matching Wavelength installation placed amidst the veneers added a pop of colour to the space. The installation having a huge spring connecting two people sitting on tech-boxes represents the idea of how important it is to stay physically connected in our growing virtual reality. 
Ballet Shoes & Ashtray | Courtyard
Kanika Bawa's pink 'Womb Ballet Shoes' (a perfect photo op), was a dedication to the uniquely western dance form that competes with Indian dance forms in complexity and grace. Her second installation – Mind Window highlighted the independent nature of the human mind despite being caged inside the individual's head.
Hetal Shukla's Ashtray (also called Astray) is an old ambassador car covered in ash with a massive burning cigarette showed how the world has lost its path. The installation is one of the major attractions in the courtyard and has garnered plenty of attention.   
Eztablish.ART for all
Art is subjective to individual perception but is often showcased for a select few. An exposure such as this gives people the kind of exposure required to understand their own taste and preferences and create their own perception of art. It opens the domain to the masses, gives them the opportunity to start a conversation on art, and stir imagination.
List of all artists & designers exhibited at Phoenix Palladium
Ajay Patil · Akash Mehta · Anand Menon · Arjun Rathi · Baaya Design · Bandana Jain · Hetal Shukla · Hitesh Gilder · Ishan Grover · Jaideep Mehrotra · Jannat Vasi · Kanak Nanda · Kanhai Gandhi · Kanika Bawa · Karishma Wadhwa · Ketan Jawdekar · Kumpal Vaid · Mahesh Anjarlekar · Manish Dikshit · Nachiket Shah · Neemesh Shah · Pooja Bansal · Poonam Mehta · Purva Pandit · Rajiv Kushalani · Sameer Balvally · Saniya Kantawala · Sapana Jain · Shabana Godhrawala · Shilpa Jain Balvally · Shresht Kashyap · Sushma Bengani · Tasneem Bharmal · VenzoWood